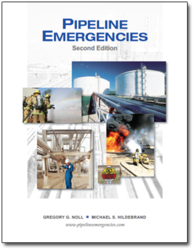 Washington, DC (PRWEB) July 15, 2011 – The  
National Association of State Fire Marshals 
(NASFM), working with a cooperative agreement from the U.S. Department of Transportation's
Pipeline and Hazardous Materials Safety Administration
(PHMSA), unveiled today a key piece to the comprehensive
Pipeline Emergencies
training package at their Annual Meeting in New Orleans, LA.
The new Instructor Guide is a unique training package developed by award-winning fire trainer and hazardous materials specialist Michael Callan. Primary components of the Instructor Guide include chapter-by-chapter slide presentations that correspond directly to Pipeline Emergencies, the program's recently updated textbook.
 
There are also detailed lesson plans, a training matrix that describes how the program may be used at the awareness, operations, and technical levels, multiple choice question and answer testing modules, and the companion slide presentations embedded with interactive scenarios. This detailed training tool is designed to help certified instructors who conduct classes for first responders and pipeline safety operators. The training program modules can be completely customized to adapt to any classroom situation.
"NASFM is proud to offer not just the textbook but also a trainer's package," said Jerry Rosendahl, President of NASFM and Minnesota's State Fire Marshal during his remarks at the organization's Annual Meeting. "Having the information out there is great but actually giving trainers what they need to get it to America's first responders — well that's even better." Jim Narva, NASFM Executive Director and former Wyoming State Fire Marshal added during his report to the nation's top fire officials, "NASFM is really excited to be the group to provide this state-of-the-art curriculum. We know safety, and it was important to NASFM to not only write the best textbook out there but to make sure the information is used and shared. No other public service agency is doing what [NASFM] is doing. This is an exciting time."
The Instructor Guide and complete Pipeline Emergencies curriculum can also be used by pipeline industry operators to help fulfill federal guidelines requiring outreach and training of first responders in specific distribution areas. NASFM hopes to partner with operators in the pipeline industry to train their local firefighters. Narva explained to the group, "Teaming with industry would allow financially strapped communities who may not be able to send their local first responders to an actual training class to learn about the latest response techniques via the online curriculum." NASFM is currently working on pilot programs to begin offering this type of training as soon as this fall.
About Pipeline Emergencies 
Developed by a team of hazardous materials specialists, the Pipeline Emergencies program is the direct result of a cooperative partnership that brought together pipeline owners and operators, federal, state, and local regulators, trade associations, elected officials, and emergency responders to protect American responders and ensure the safety and security of America's pipeline infrastructure. The updated curriculum is available
online
. Smartphone applications for the textbook are available for the iPad, iPhone, and iPod Touch. A Droid version is due soon.
About NASFM 
The National Association of State Fire Marshals, based in Washington, DC, includes the most senior fire officials in the United States and District of Columbia. The mission of NASFM is to protect life, property and the environment from fire and related hazards. NASFM works closely with federal agencies and the American public to offer concrete solutions to fire safety issues. 
For more information about NASFM visit 
http://www.firemarshals.org
.
About PHMSA
The Pipeline and Hazardous Materials Safety Administration is a division of the United States Department of Transportation. The mission of PHMSA is to prevent emergencies and reduce the consequences (to people, the environment, and economic impacts) after a pipeline or hazmat failure has occurred. 
For more information about PHMSA visit 
http://www.phmsa.dot.gov
.