September 19, 2011 – City Technology, has introduced the 4CM, a new carbon monoxide sensor designed for use in the world's most challenging environments. Developed to meet the most stringent toxic gas and mining standards, the 4CM not only improves the functionality, reliability and effectiveness of PPE in hostile environments, but also demonstrates outstanding performance and stability in temperature and humidity extremes.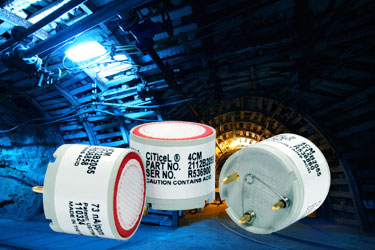 The 4CM outperforms other sensors on the market by responding 12% faster to CO hazards and recovering in over half the time of the industry average. This is a major benefit to detection instrument manufacturers keen to improve the performance of their products.
Carbon monoxide (CO) is extremely difficult for people to detect. Exposure to concentrations as low as 100 ppm can be dangerous, higher levels of exposure can be life threatening. 

In industry, the gas is routinely found in mining facilities, oil and gas plants, petrochemical facilities, steel plants and wastewater treatment plants. It is also major potential hazard when personnel are required to enter confined spaces and therefore effective CO detection is vital.
Rob White, Product Marketing Manager, City Technology, said: "As global leader in the design and manufacture of gas sensors for personal life safety equipment, the 4CM continues City's tradition of developing products that make a positive contribution to the preservation of life in challenging environments. The 4CM is the fastest CO sensor on the market, the most efficient in terms of reducing calibration costs and complements our growing portfolio of high performance sensors that include the recently launched 4OXV. Manufacturing on fully automated lines in the UK provides full characterization of every sensor, traceability down to the component level and guaranteed uncompromising quality."
The 4CM offers electrical and mechanical backwards compatibility with previous generations of City CO sensors. It has a typical T90 time of seven seconds and a recovery time to an indicated level of less than 2ppm in less than 100 seconds. During 50-day exposures in 120°F and 11% relative humidity, and 120°F at 95% relative humidity, the 4CM operated to specification. The sensor provides excellent accuracy and stability at high and low gas concentrations, meeting the EN45544 requirements for uncertainty, typically achieving 1ppm for zero concentrations and less than 1% variation at 250, 750 and 1000ppm.
About City Technology
City Technology, owned by Honeywell, is the world's leading manufacturer of gas sensors used in personal protective equipment, industrial safety systems and residential detectors throughout the world. Over 300 sensors, based on electrochemical and other technologies, respond to 28 common and exotic gases with outstanding stability, excellent linearity and high immunity to cross-contaminants.

About Honeywell International
Honeywell International (www.honeywell.com) is a Fortune 100 diversified technology and manufacturing leader, serving customers worldwide with aerospace products and services; control technologies for buildings, homes and industry; automotive products; turbochargers; and specialty materials. Based in Morris Township, N.J., Honeywell's shares are traded on the New York, London, and Chicago Stock Exchanges.  For more news and information on Honeywell, please visit www.honeywellnow.com.